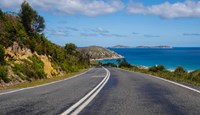 Choosing a Portable BBQ for Caravanning - Buyers Guide
Caravanning is rapidly increasing in popularity in Australia – and why wouldn't it be? It offers freedom, exploration and adventure and is a cost effective way to travel whether it be for a short weekend break or a long term trip. There are no airport hassles or the risk of dodgy hotel rooms and no unpacking and repacking when moving destinations. You can take your pets, it's a great way to meet other travellers and you can immerse yourself in nature or have an economic place to stay in the big smoke.
With the ability to work remotely these days, more and more people are choosing a nomadic lifestyle – simplicity and flexibility at its best. It's a great way to leave behind a fast paced, stressful, digital world and get back to the basics, connecting with people from all over the world and the best nature has to offer – relaxation and a renewed appreciation for life comes along with that.
Caravans Now Have All the Mod Cons
Caravanning is no longer seen as 'roughing it' either. Caravans have come a long way over the years and are available with all the facilities and mod cons you may need – they can even be compared to a comfortable hotel room. You can enjoy air con, a shower and toilet and a comfy bed as well as the benefits of GPS and solar panels.
The choices of where to park your caravan are extensive – there are 1638 caravan parks in Australia1 according to the last census data. Parks can be found to suit everyone, some just offering the basics for a comfortable stay and others offering exceptional facilities such as camp kitchens, laundries, ensuite campsites, TV rooms, pools, playgrounds and water parks, Wi-Fi and activities for kids.
It's no wonder many young couples and families are joining the grey nomads for the memorable experience caravanning offers. Tourism Research Australia figures show that 30% of all trips in regional Australia involve caravanning or camping. Camping trips have reached 12.9 million in a year, with the total nights spent camping and caravanning reaching a record 54.5 million nights last year2. That's a lot of campers! The age of travellers is predominantly 30 to 54 years, with the 20 to 29 year age bracket increasing significantly3.
One of the joys of caravanning is cooking on a portable gas BBQ and dining in the great outdoors, maybe even sharing with fellow campers. You'd be unlikely to find a caravan without a small BBQ as part of the furniture, and they can even be fitted to the caravan on a slide out mechanism for convenience.
Benefits of a Camping BBQ
Easy to Travel With - Small BBQs are compact and lightweight. They are quick to set up and pre-heat so you're ready to cook in no time.

Use Them Anywhere - Using a portable gas BBQ means you don't need to rely on a caravan park to have a BBQ or kitchen, or even a powered site to cook meals in your caravan – actually you don't even need a campsite at all!

Versatility – they provide the means to cook almost anything, for any meal of the day – a fry up breakfast, burgers for lunch or a roast for dinner. They offer great flexibility with food – some great ideas for food to cook on your camping BBQ will ensure it's not just snags for dinner every night.

Easy Clean Up – with non-stick grills and hotplates BBQs only need a quick wipe down, keeping the cleaning up to a minimum.
Choosing a Camping BBQ
There are several considerations to work through when choosing a portable stove or BBQ for camping. If you tend to use pots and pans for your cooking, suppliers such as Gasmate have 2 burner gas BBQ stoves which may suit alongside or instead of a hotplate BBQ. This checklist will assist you in making the best choice for your needs.
Price - Take into account your budget and how much use your camping BBQ will endure. You really don't have to spend a lot of money but it's worth investing in the best you can afford if you plan on barbecuing often.

Size - How much space you have to store or build-in your BBQ will determine its size. Also consider its weight, particularly if you'll be moving it around.

Cooking Space - Choose the size of the grill and hotplate based on the number of people you'll usually be cooking for. A 2 burner BBQ or stove is often a good option for a caravan.

Set Up and Use - Look into how easy the BBQ is to set up and pack up. Can you get it out and start using it quickly? Does it only take one person to set up? You'll benefit from ease and simplicity.

Heat Output – research the different power output levels available and choose a BBQ based on the performance and efficiency of the model.

Extra Features – select the features you'd like to improve your barbecuing experience, such as a higher hood so you can cook roasts. Do you want legs on your BBQ or a stand to put it on? Perhaps bench space at the side? Look at whether there is a temperature gauge and quick start ignition.

Gasmate offer a fantastic range of portable gas BBQs which are suitable for caravanning. The Odyssey 1 and Odyssey 2 are die cast aluminium, durable, compact, easy to clean and convenient, with a high hood and generous grill and hotplate cooking area. The Adventurer Deluxe 1 and Adventurer Deluxe 2 are constructed of powder coated steel, offering similar features for a lower price and are also perfect for caravanning.
There is a camping BBQ to suit your needs. Browse the Gasmate stockist page to find your nearest retailer, or for more information call our friendly team on 1300 174 876.